"Mediators are not firefighters. They should get involved before an outbreak of social unrest as seen at Can Vies"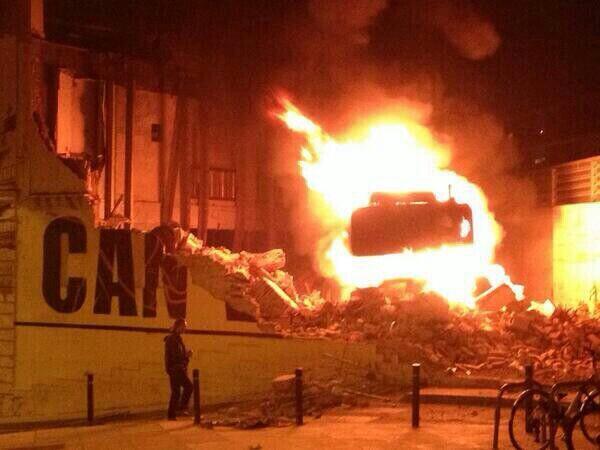 The Mayor of Barcelona, Xavier Trias, is looking for a mediator in the Can Vies disputeand all indications are that the Síndic de Greuges, Catalonia's ombudsman, could be given charge of the negotiations. The fact is, though, that since last Monday there have now been three consecutive nights of disturbances, resulting in 28 arrests and damage valued at 100,000 euros, according to municipal sources. The clashes on Wednesday night occurred not only in the Catalan capital, but also spread to other parts of the region, such as Tarragona and Girona.
Barcelona City Council claims that it is pursuing all possible avenues to resolve the dispute, and asserts that it was aware that the evictions from the occupied centre located in the Sants district would trigger a substantial conflict. "Such outbreaks are clearly symptoms of a broader social conflict. When there is such a rise in tension, a failure by the public authorities to provide answers, hunger, unemployment, cases of political corruption going unpunished... that provides all the ingredients for this type of social unrest," explains the Co-director of the Master's in Professional Mediation at the UPF-IDEC, Javier Wilhelm. "Our role as mediators, though, is not to be firefighters. We do not put out the flames after the event, but are far more useful when acting in advance, allowing us to generate stable forums for meetings and dialogue among the local population, in the district, on the street and through residents' associations and neighbourhood groups, while also advising local councillors and municipal staff...". In this regard, Wilhelm reflects that: "Once again, as in the case of Gamonal in Burgos, the response has come too late, although it is always possible to rebuild the social fabric". The professor proposes in this regard the setting up of a crisis cabinet with professional mediators, working to restore dialogue, calm nerves and listen to the local residents affected, while advising local councillors and municipal staff. "I am not calling into question the ombudsman role of the Síndic de Greuges, but the case merits the attentions of a team of professional mediators". He adds: "The damage already amounts to €150,000 in three days in Catalonia. That money could be used to hire some 75 mediators for a month".
The job of a professional mediator is specifically to seek out spaces for dialogue, shared agendas, circles of communication, not only between the City Council and local residents, but also among neighbourhood associations, organizations and residents themselves, who as a result of the existing unease now find themselves in a delicate situation of coexistence.
UPF-IDEC is now in its third year of training Mediation professionals, specializing in the management and resolution of conflicts in spheres ranging from private and company law to social conflicts.